A campervan mattress topper would not only provide you with a comfortable surface to rest on but should be easy to store. The best campervan mattress topper must have these two traits.
It's all about saving space without compromising on comfort. And that's why the decision to choose the best mattress topper becomes overwhelmingly difficult. We have written this guide from first-hand experience to provide you with all the assistance you need to make the right decision.
So, keep reading to find out everything you need to know about the best mattress topper for your VW Transporter campervan.
2023 update!
Many Camperbrain readers have opted for the very reasonably priced
Vesgantti 5cm topper on Amazon
,
however
, it is quite frequently out of stock at the moment.
Our recommendation
right now is to try the Newentor 2″ memory foam mattress that
Amazon offers on Prime (check price here)
. This should fit in most pop tops and has a washable, removable zipped cover so can be easily washed, plus you get the usual Prime niceties (next-day delivery, returns, etc.).
Top tip: Be very careful if you plan on storing your mattress topper in your pop top roof. Not all mattress toppers fit in a campervan pop top while it's closed.

For example, we found that the Eve mattress topper (5cm height) doesn't fit in our 2010 T5.1 with Austops roof.
Why use a mattress Topper in your campervan?
A mattress topper, sometimes also referred to as a mattress pad, can be placed on top of a mattress to make it more comfortable. It can be made of a range of different materials. It's usually made of some type of memory foam, but the material is often determined by the desired thickness of the topper. Obviously the thicker it is, the more comfortable it'll be… but also the less likely it'll fit in your pop top!
Its primary objective is to provide a comfort layer, mainly when the current mattress is worn out and uncomfortable. It can also save your rock n roll bed from being worn out too quickly. Research has shown that mattress toppers significantly improve sleep quality as they have a breathable surface.
But that is not all…
When it comes to a campervan, especially the likes of VW T5, a mattress topper proves to be even more useful because you can use it on various surfaces to get a nap.
It is effortless to fold away, and you won't have to use any thick mattresses. It provides you with a comfortable sleeping surface, and some of them can even fit in the pop-top while closed so that it takes up, quite literally, no room at all.
Comparison Chart
Where to Store your RV mattress in Your Van?
Storage can be your enemy when it comes to a campervan because of the size of the vehicle. As you are not using a motorhome or an RV; therefore, you will have to manage your storage options. Storing your mattress topper can be a bit of trouble because it may take up much space, no matter how compact you are in your folding process.
But you cannot compromise on your sleeping comfort either. So, there is no option of excluding a mattress topper from your checklist. Now you have two options here.
Storing It in the Pop Top
One option for you to store your mattress topper within the pop-top roof. That's if your campervan comes with a pop-top roof. If it doesn't, and you're considering buying one, then read our research on pop top roof prices. With that, you will have additional space for a couple of adults.
It also means you have ample space to store your mattress topper, irrespective of its thickness. So, you can even focus more on comfort and go for a thicker topper. As you keep it upstairs, you will have plenty of room downstairs to move around and place other stuff.
Advice: try to find a mattress topper that offers free returns so that you can see if it fits in your pop top while closed.
Storing It in the Back Folded Up
The other option is to put your mattress topper in the back, all folded up. This will take up your storage space in the back, and folding it up is not always an easy single-person job. I'm often the one that folds it away as Diana struggles a bit – they're quite unwieldy!
If you're not looking to invest in a pop-up roof anytime soon, or if it simply doesn't fit in your roof while closed, then this is your only option.
Positive
Get the bed ready without putting your roof up
Negatives
Takes up valuable luggage space
This isn't ideal not be a good idea if you have kids or need to carry plenty of luggage onboard.
Types of campervan mattress toppers
Memory Foam Mattress Toppers
A memory foam mattress topper for campervan is useful because it can remember your sleeping patterns and adapts according to your body posture. Furthermore, memory foam can provide you with exceptional back support irrespective of your sleeping style.
But there is a drawback. If you sleep hot, memory foam is not the right option because it retains a lot of heat. So, they are better suited on colder nights or if you have backaches or neck pains.
Egg Crate Memory Foam Mattress Toppers
Egg crate memory foam is another option you can explore. This design is for the users who sleep hot. This topper's soft foam pad has bumps on it, and they look like an egg carton. This mattress also does a fair job conforming to your body shape and delivers maximum back support.
The problem of low breathability of memory foam is resolved here up to some extent but not entirely. However, you will have to pay a bit extra to get the campervan bed topper in egg crate design. So, when you weigh-in the advantages and disadvantages, the egg crate topper stacks up close to the traditional memory foam mattress topper.
Gel Memory Foam Mattress Toppers
Here's another option to consider that does a fine job just like your traditional memory foam mattress topper but has a separate layer with gel infusion to keep things comfortable for the user. The tiny beads of gel in the top layer of the mattress topper trap heat and keep it comfortable for you. If you sleep hot, this is the right option for you.
But here's a catch! With gel infusion technology, these mattress toppers become costly.
Latex Mattress Toppers
Latex toppers are best in terms of their hypoallergenic properties. Manufacturers of these toppers only use environmentally-friendly materials. So, if you are an eco-conscious camper, this is the right choice. Additionally, latex is adaptable, and you can use it in a range of different camping conditions.
But these RV mattress toppers tend to emit an odor when you unpack them. And this odor takes a bit of time to go away. So, it will stay there in your campervan for some time to come.
Feather Mattress Toppers
These mattress toppers have feathers in them and make you feel like lying on the clouds. It means they are pretty soft and cozy. If these traits are your priority, you need to go for feather mattress toppers.
But these toppers might create irritation in your respiratory tracts or trigger allergic reactions. Apart from that, there are not many brands on the market that offer feather mattress toppers, so your options are limited.
Down Alternative Mattress Toppers
If you love to come to cold climates, you will love to sleep on a surface that can keep heat intact and make you feel warm. Down alternative mattress toppers do precisely that and are exceptionally soft as well. These toppers have hypoallergenic materials and are suitable for frigid environments.
These toppers are not suitable to take on your trip to warmer climates, and if you sleep hot, these mattress toppers are not the right option for you either. You need to protect them from moisture, and for that reason, they come with water-resistant covers. So, they are expensive as well.
Best Campervan Mattress Toppers
Key features
Luxurious foam.
30x more breathable.
No odors.
Evesleep has designed this mattress topper to add a luxurious touch to your campervan mattress. If you are not ready to part ways with your favorite campervan mattress, you can add this to your setup and continue enjoying the surface you love to sleep on. The VW T5 pop top mattress topper is highly breathable, and it offers plenty of support.
It contains memory foam and is available in different sizes to suit your needs. You won't have to deal with any overheating and won't slip or slide either. Apart from that, the mattress topper is covered under a 3-year warranty along with a 30-day checking period. 
Pros
Doesn't sleep hot.
Contours well to your body.
Doesn't slide or slip no matter how much you move.
Comes with a 3-year warranty and a 30-day checking period.
Cons
It's an expensive mattress topper.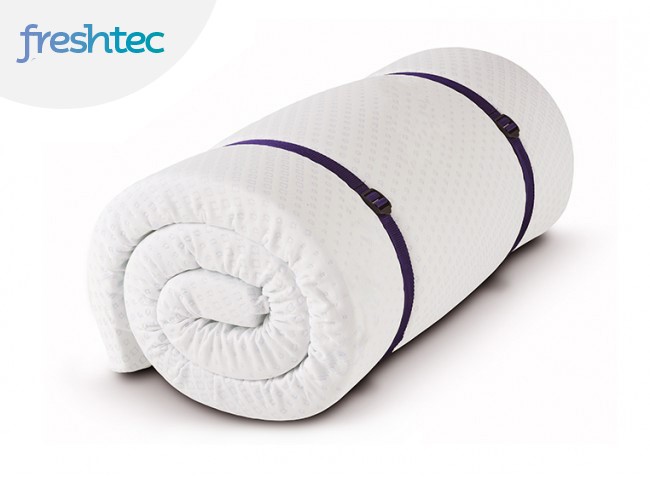 Key features
High density.
Increased airflow.
Convenient storage.
This cooling mattress topper has a feel that resembles latex. But it is awe-inspiring when it comes to pressure relief and comfort. This topper is designed to fight heat retention actively and keeps it cool for you to sleep on.
There are airflow channels present in this topper that keep it comfortable all night long. It is available in different sizes, and you can go with the one based on the space open in your campervan. Additionally, you can also go for a range of other accessories to take care of your mattress by Duvalay.
Pros
Available in different sizes.
A carrying bag for storage is available.
The right choice for anyone who sleeps hot.
Easy to set up and fold away.
Cons
Not the ideal option for heavyweight people.
Key Features
Distributes pressure evenly.
Machine washable.
Microclimate technology.
This mattress topper tends to distribute pressure and handle pressure points quite well. Apart from that, it is the best hypoallergenic mattress toppers, and if you are an eco-friendly camper, you will love to have it onboard.
Due to these properties, this mattress is comfortable to wash in the machine as well.
And that's not all!
This VW T5 pop top mattress topper also features Microclimate technology that will keep you cool and calm no matter how hot it is outside your van.
Pros
Pretty lightweight in design.
100% polyester.
It can handle pressure points in your body very well.
Does not cause allergic reactions. 
Cons
Only a single size is available.
Key features:
Elastic corner straps.
Heavy-stitch fill boxes.
Massage bubbe fabric cover.
If you are looking for comfort at an affordable price, you don't need to look any further. The High Living mattress topper is the right option for you. The bubble fabric cover of this topper makes it extremely comfortable to sleep.
There are elasticated corners on this topper and fit nicely on the mattress below, so it doesn't slide or slip as you move on it. Additionally, this mattress topper is entirely odor-free and is hypoallergenic.
Pros:
Soft mattress topper.
Extremely comfortable even for summers.
Elastic corners to fit well with most mattresses.
Cons:
Make sure not to use soft mattresses.
Not machine washable.
Key features:
Gel-infused memory foam.
Washable cover.
Different sizes are available.
If you sleep hot or perfect to camp in a hot climate, this is the mattress that will suit you well. It has a designated layer made of gel-infused memory foam that can absorb heat and keep it cool during those warm nights.
The topper is CertiPUR-US certified, and it doesn't contain any harmful substances either. It has a highly breathable fabric cover that boasts anti-slip mesh. And the zipper on it is also of premium quality, so it will continue to remain functional for a long time.
Pros:
Gel-infused memory foam.
Fully knitted fabric cover.
CertiPUR-US certified.
Absorbs heat and conforms pretty well.
Cons:
It tends to lose its shape over time.
Final Word
There you have it. Just make sure you don't compromise on your comfort because you don't want those restless nights on your trips at all. Overall, the best campervan mattress topper is the Evesleep Mattress Topper because it comprises premium quality materials and offers excellent support.
For the best campervan mattress topper, you need to define your goals. There is a wide variety of mattress toppers available on the market, and you can go for any type, based on your preferences and requirements.