No two campervans are the same. Just like no two beds for campervans are the same. Everyone's sleeping arrangement is as unique as they are. Everyone's van is different and ultimately bought for a different reason. In this guide we'll discuss the different sleeping arrangements and bed options you have in your campervan.
I bought my van to travel around the UK (and beyond?!) with my wife. Others buy their van to whisk their family of 4-5 away every weekend for some outdoorsy fun, and campervans are a common comfy night's sleep for keen triathletes competing away from home.
With or without op-top, short or long wheelbase, day van, or kitchen conversion… There are so many campervan bed options that it's difficult to know where to begin!
Product to help you sleep comfortably in your campervan
Since buying our T5 pop-top in Summer 2020, we've tried all sorts of products to make our sleeping arrange more comfortable.
Here are the products we personally take with us on every trip and are particularly handy during the nights.
Handy for winter nights (or just "because"!)
Make sure you don't wake up to a van full of condensation.
Never leave the house without a torch!
But not everyone knows how to use all these options properly, or at least what is possible with them all. You can choose from various campervan beds and sleeping arrangements depending on how many people you're catering for.
Today, we will discuss different VW Transporter beds suitable for different sleeping arrangements in your van.
Different Sleeping Arrangements
The right kind of sleeping arrangements ensure a comfortable resting time and get back to the action with a new mood and mind. Here are some of the standard options you can explore to get the most out of the space available in your campervan, whether you have a pop-top or not.
Where Babies and Young Children can Sleep in a Campervan
Swivel your front seats and place a cardboard piece in the gap. Now you can put a high-density memory foam for your baby to sleep on during the night.
You can then place a baby hammock for this purpose in the cabin area. Cabbunk is the right option for saving a lot of space and keeping it comfortable for your kids.
A bubble cot or a Moses basket can also work well on the swiveled front seats.
Sleeping in a tent vs campervan
Sleeping in a tent can be problematic, or an absolute joy, depending on your personality. Tents are noisy and tend to get cold pretty fast, especially if you compare them with your cost campervan interiors.
So, being inside your campervan will be a lot more comfortable as you can turn on the air conditioner in no time. Setting up your tent can also be quite hectic, particularly if you don't have much experience in it or you arrive late one night and it's still dark.
Plus, you usually have to carry extra stuff like sterilizer, pram, crib, bottles, baby food, and things like that when you have babies and children. So, you will need plenty of storage space as well.
Setting up a small storage tent outside your van is an excellent solution to all your problems and allow your kids to sleep upstairs while staying close. This way you get the best of both worlds – an indoor sleeping area in your camper, and a handy storage area with your tent.
Baby beds for campervans – keeping it safe
To make it safe for your little ones (and yourself underneath!), you can use an elevating roof safety net if you have a pop-top.
By using one of these you'll have piece of mind that your baby is never going to fall out of the pop top. It's also a handy little thing if, like me, you find your pillows falling down sometimes!
They're around £80 and can be bought at Camper Van Parts.
Childrens beds for campervans – safe and secure
The best and most ingenious solution we've come across is the Cabbunk.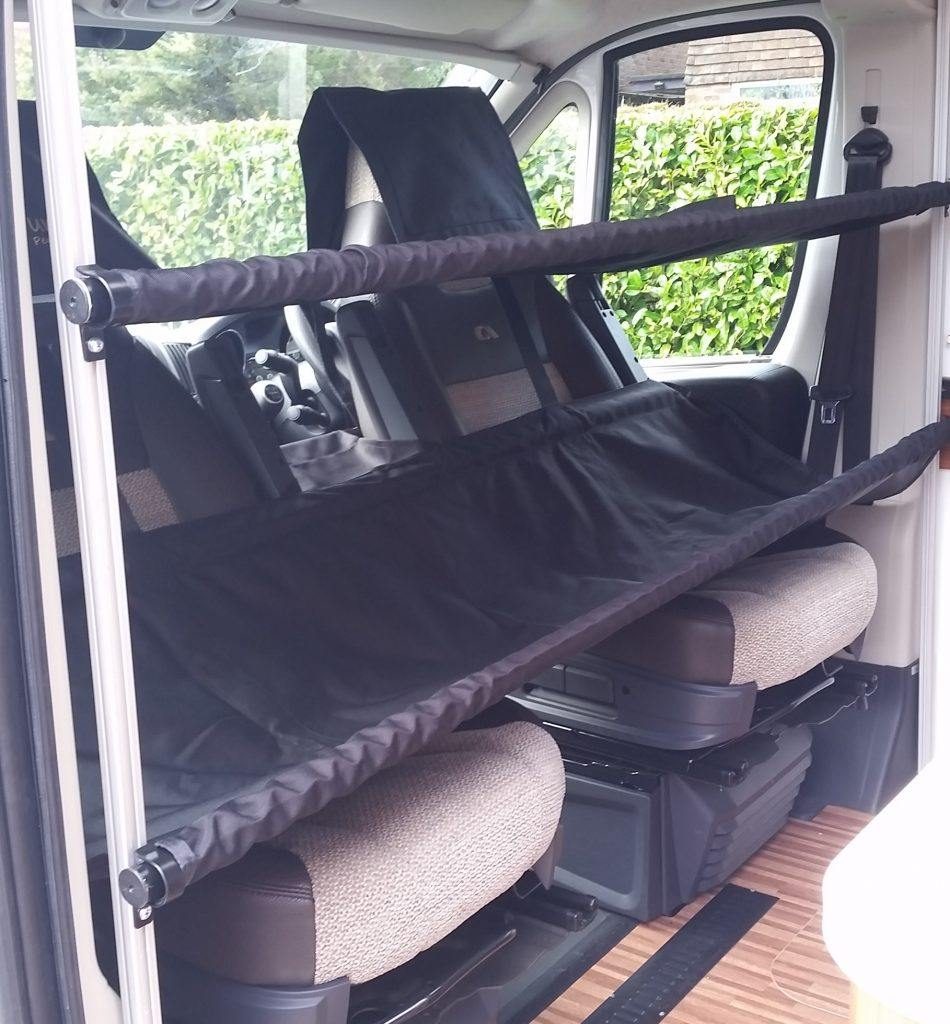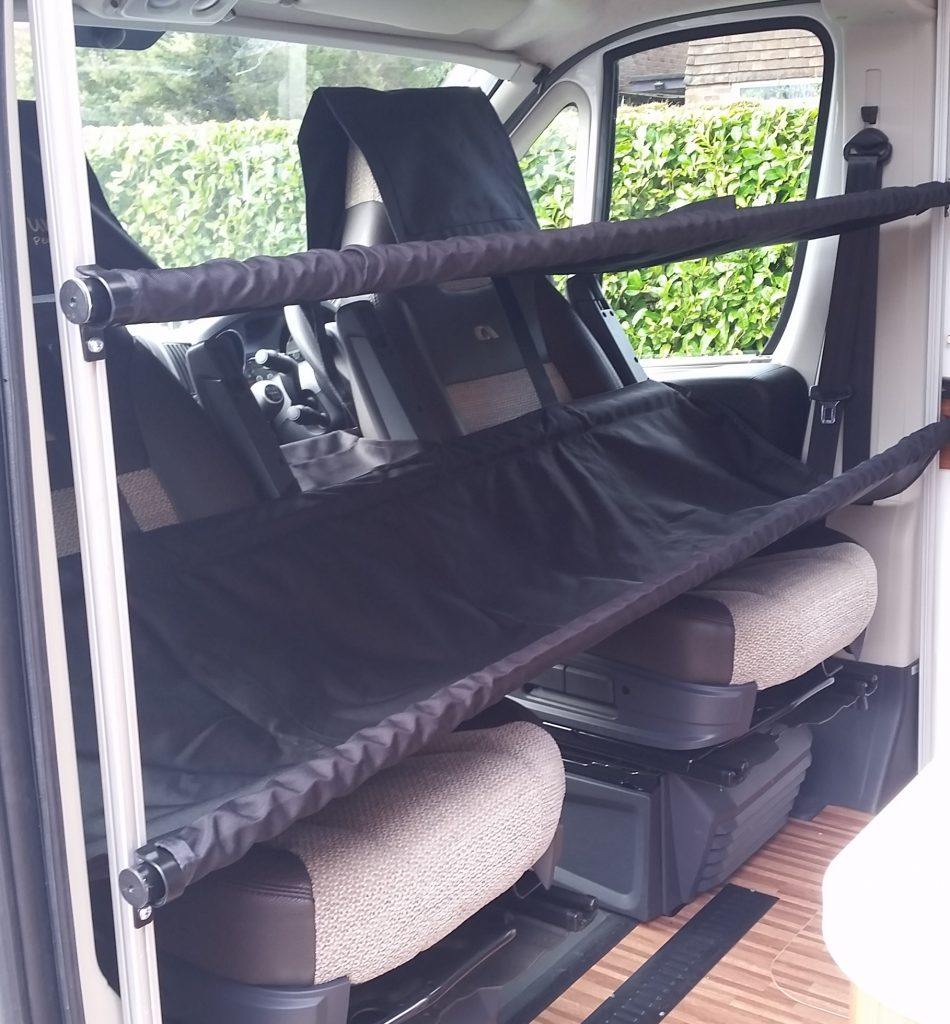 Sleeping comfortably in a pop-top Roof
Not everyone enjoys sleeping in their roof. I get mixed feedback from people who don't like it, including:
Wind noise or tilting can be a problem if it's windy
It's often might lighter in the mornings (who doesn't love waking up for sunrise though!?)
It's colder up there
They just don't "feel safe" (though most are absolutely take the weight of 2 adults)
Check out our handy guide to pop top roof prices which includes pros, cons, and estimates prices.
Regardless of the configuration you have on your campervan, whether it is a short or long wheelbase, full width, or ¾ rock and roll bed, a VW Transporter can only comfortably manage to sleep a couple of adults, really. Yes it is possible to sleep 4 adults if you have a pop-top, but in reality this isn't going to be particularly private or comfortable for any of those people.
Pop-tops are great for sleeping up to 2 young children, and 2 adults downstairs. They're also great for that extra headroom for 1-2 adults traveling in their van for a few days cooking up a lovely meal!
Ventilation
Pop-top ventilation is an often overlooked but very useful little tip. Most pop-tops have zippable plastic windows with a mesh on the other side. The beauty of this is that it allows you to open it up for ventilation to help reduce condensation in your campervan. Condensation is a necessary fact of live, but having a pop-top up and well-ventilated does help prevent the worst of it.
Mattress
As they say, don't scrimp on anything that separates you from the ground. I.e. shoes and mattresses! The pop-top base is usually solid plywood, so you'll need to make sure you buy a tidy mattress topper for a comfy night's sleep.
Charging equipment
The one thing that bugs me about sleeping in the roof vs downstairs on the rock n roll bed is that there's no plug up there. Some campervan conversion companies thoughtfully install plugs upstairs with roof access, but not ours.
We always have a portable charger with us to charge both of our phones and our ipad. You can't go wrong with this beast, which will keep an ipad and 2 iphones going for an entire weekend.
Lights
If you're upstairs in the pop top then you probably won't have easy access to lights, so it's definitely advised to buy a pair of torches if you're going to sleep up there. The reason I say a pair is because we always lose one on a trip (and subsequently find it dropped down behind the seat or somewhere!).
The catch with pop top campervan beds
On the whole, pop-ups are entirely full of positives. They're not exactly cheap to get installed (check out how much pop tops cost), but if you have one, then trust me in that you'll never want to be without it!
There really aren't many negatives with pop-tops other than they're not as comfy to sleep in as rock n roll beds (in my opinion).
Some people do report leakages from their pop top (it's probably the most likely cause of a leak, especially in older pop tops). As long as you've had it professional installed and raise and lower it carefully you don't have much to worry about when leaks are concerned.
Due to the canvas of a pop top, some people say that you have less security if you leave it up. This is difficult to argue against as technically it's true, however I haven't heard any stories personally of anyone's campervan being broken into via the roof while the roof was up.
The final thing to consider with pop-tops, especially if you're going to be sleeping in it, is that if you don't store it correctly it can get moldy over time.
Preventing mold in a pop top
The best way to prevent mold in a pop top is to always let it full dry out if it gets wet. If it gets wet on the inside or outside, then make sure you find an opportunity to fully air it out for a few hours when you're stationary.
Usually an hour and half will be enough to get rid of any moisture, but obviously it depends on the weather.
The same is true for tents. If your tent gets wet because it's been raining or heavily condensated inside, then make sure you re-erect it in your garden when you get home so that it dries out fully before going into hibernation.
Comfortably sleeping on a Rock n Roll bed
Another sleeping arrangement you can go for is using a rock and roll bed in your campervan. This rock and roll campervan bed can save a lot of space for you and can be super comfortable to use.
Some rock n roll bed designs come with ample storage space too. You can either make it double or triple fold based on your requirements and which type of rock n roll bed you choose. You can turn them from bed to couch and then back into bed in less than half a minute, and some are even electric-operated (lazy!).
Making rock n roll beds comfortable for sleeping
It all starts with erecting the bed and getting ready for your night's sleep in the first place:
If you have a mattress topper, then make sure it's easily accessible if you're arriving late and just want to get straight to sleep. You don't want to be having to empty your boot just to get to it!
Keep your toiletries handy. There's nothing worse than being ready to bed down, but forgetting where you packed your toiletries! We always use the same drawer for all of our toiletries so we know exactly where they are all the time. We also have 2 of everything, so we keep a pair of toothbrushes in the house, and a pair in the van. Ditto for after shave, deodorant, tooth paste, etc.
Leave the bed out while driving or not?
I have to confess in being quite lazy sometimes and not putting the bed away if we're popping out from the campsite for a bit. However, this is the exception as opposed to the rule.
We have the RIB bed, which is super easy to put away. Also, since we have a short wheelbase, putting the bed away affords us a little bit more breathing space inside while we're potting about.
How much space while the bed is out?
The different rock n roll beds vary in size. The most common layout for the VW Transporter though is roughly the size of a small double. You can get skinnier or wider, but from my experience this is quite typical.
Having a long wheelbase as opposed to short wheelbase will give you around an extra foot of space in the van. When the bed is out, this means that you'll be able to get into your cupboard and fridge, as opposed to just your fridge in a short wheelbase.
Sleeping bag or duvet for rock n roll bed?
Both. Or neither! We've tried all sorts. We now regularly use our mattress topper and a duvet (light or thick tog, depending on season). We've never bothered with a sleeping bag, mostly because we find the duvet super cosy!
Sleeping bags are quite good because they pack up quite small, but most campervans have a decent space to jam in a duvet.
One great use for a high tog duvet is as an extra layer between you and your bed. Rock n roll beds have padding on them, and if you have a mattress topper then you're already on your way to a decent night's sleep, but having an extra duvet to lie on top of will give you a little bit extra cushion and comfort.
Sleeping on top of a high tog duvet is a good way to add some comfort to your rock n roll night's sleep.
Sleeping in a Tent Outside the Van
The main issue I have with this is… bugs!! I generally only travel throughout the UK, but I can't stand finding spiders, or worse, FROGS, in my tent with me. That's why I bought a campervan in the first place – to prevent this!
By sleeping in a tent or one of the best driveaway awnings, you'll probably have a bit more room, but it won't necessarily be as comfortable as on a tidy rock n roll bed. This is a purely subjective thing though. On campsites you'll see people sleeping in all sorts if places on their plot.
If you do sleep in a tent, then you'll have the opportunity to sleep on a blow up mattress. This isn't really feasible in your van.
It can accommodate more people as well, and you will have plenty of storage space as well. But setting it up can take some time, especially if you don't have much experience erecting your particular awning.
Taking your dog with you
Taking your dog on your trip can be loads of fun as well. But it's just not about having fun all the time. The little bundle of joy needs to take some rest just like you. But the question is where you can put your dog to sleep during the nights where they're not bothering you?
The best place for your dog to sleep is in the passenger footwell. However, this isn't practical for large dogs. For large dogs I'd suggest buying a blanket or seat cover for your dog to sleep on so that you don't get your lovely Transporter seats dirty.
Obviously if you have a tent, and it's not too cold out, then your driveaway awning is the ideal place for your furry friend to sleep.
Some Tips to Make Sleeping More Comfortable in a Campervan
Your campervan can be a cosier place to sleep than your own home if you want it to be. You need to know what you're getting into first though.
Your first trip out in a new camper probably isn't going to be the most comfortable as you'll probably realise you don't yet know all of the tricks of the trade. Here's our round up:
Sleep on a mattress topper and store it in your pop-top if you have on, or roll it up in your boot if you don't
Use a pop-top net to make sure your pop-top is as child-safe as it can be
Invest in one of the best driveaway awnings you can afford so that you can store stuff in it, or allow friends to sleep in it
Choose the right kind of pillows and sheets according to the season
Keep your pop-top bed down (but roof up) to keep noise dampened during the evenings. You would be amazed how much of a difference this makes
Block out any unwanted light to ensure a good night's sleep, and make sure you drink caffeine only in the morning
Our Recommendations for campervan beds
Here are some of the recommendations that we have to make the right decision with minimum effort.
If you are looking to sleep your toddler in your campervan, it is a good idea to go for a travel cot or inflatable bed made for toddlers.
To give your baby the most cosy sleep possible check out the Palluli Premium.
Using a hammock bed in your campervan is another good option. Cabbunk is robust, lightweight, and fits in no time. It can fit all swiveling seat cabs and works like a charm.
If you'll be staying at the same campsite for 2+ nights on your trip, then definitely research the best driveaway awning for you.