One of the most common questions for new campervan owners is "Do I need a driveaway awning?". We asked ourselves the question before and after purchasing our first Transporter, and we did actually end up buying one (we went for a second hand Vango Kela 3).
The benefit we wanted out of a driveaway awning was to extend our living space and offer friends a place to stay if they wanted to travel with us.
A word from our editor, joe
As a newbie to the world of campervans, my wife (Diana) and I bought our T5 campervan (affectionately named "Vinnie") in July 2020 and have had to learn a lot very quickly.

We own the Vango Kela 3 driveway awning and absolutely love it – we'll tell you why in the post below.

Please do ask us if you have any specific questions or would like a particular product to be reviewed (we have connections with many manufacturers).
Our recommended VW Transporter Awnings
In our research, we found that the Vango Kela gave the best compromise between size, quality, and price. It can comfortably sleep 3-4 people, is easy to erect, and doesn't take up too much space when stowed away.
Best all-round driveaway awning for VW campers
A combination of price, quality, and usage

Sold on Amazon
Includes Vango AirBeam technology for quick setup. Perfect for Transporter campervans!
Best driveaway awning for a family
The biggest and easiest to erect

Plenty of room
Very large awning with an Airbeam structure and lovely front canopy.
Best driveaway awning for couples
Packs up small and is a nice little living room

Great all-rounder
Really easy to erect, stow away, and enough room for friends to sleep too!
Least hassle driveaway awning
Attach, extend, DONE
Best looking driveaway awning
The envy of the campsite
The winner here is one that I always get a bit of tent-envy from whenever I see one on a campsite. The only downside is that it's quite heavy to lug around (28kg), but when it's up it really does look amazing.
Owning an awning – pros and cons
Here are some of the pros and cons of buying one. Later in this post we'll talk about how our opinion for some of these points actually changed after purchasing and using our awning for the first time.
Positive
Adds extra living space
Room for 2-8 more people to sleep
Provides shelter from rain
Provides wind shelter and extra privacy at any time
Can be a place to put your portable toilet
Negatives
Takes time to put up and pack away
Takes a lot of valuable storage space in the van when packed away
If you haven't owned a campervan before then you'll have a different perspective than if you're a seasoned owner without an awning looking to expand living space.
Do I need a high or a low awning?
Be very careful about which driveaway awning you buy. It's easy to buy the wrong one – we very nearly did!
For example, they all come in different heights. Typically, for a Transporter campervan, you'd need to buy the "low" version. The "high" version means that you can connect it to a higher ridge on the side of a vehicle (via a Kador strip).
Low driveaway awnings are often used for the usual converted campervans – they'll fit something like a Transporter T4, T5 and T6, Renault, Mercedes Vito, etc.
High driveaway awnings are made to connect to motorhomes or caravans.
Best driveaway awning for small campers
There are quite clearly different options on the market depending on the size of your campervan.
The main thing to take into consideration is the amount of space required when the awning is stowed away. Before buying my Vango Kela, I didn't actually consider this even once.
I was very glad to have bought a smaller driveaway awning for my VW Transporter camper though, as there really isn't that much 'spare' space in the back.
The Kela is really outstanding as it only weighs about 18kg, and packs up into a large (but not huge) sized holdall. Here's a picture of ours packed away in our van:
How many people can sleep in a driveaway awning?
Driveaway awnings come in all shapes and sizes. Like anything, the answer to this is "it depends".
Firstly, how squashed do you want your guests to be while sleeping in the awning? We recently went away with another couple who slept in our Vango Kela 3. They brought along a double blow-up mattress, and we lent them our spare Austops mattress topper. There was plenty of room elsewhere in the tent for them to put their belongings – it was a lovely sized little bedroom.
On the flipside, I know that after a few (too many) beers, I could get 6 of my mates to sleep in that very same area. It's all down to how much room you expect your guests to have. In our Vango Kela 3, I'd say we could sleep 2 very comfortably, and 6 at a squeeze.
Secondly, do you want to use it for living space as well as sleeping space, or just one or the other? Obviously, if you have a queen-sized blow-up bed in there, then you're not leaving much room for general living space. I'd recommend carrying around a double blow-up mattress with you – this is perfect for 2 to sleep on, or super comfortable for 1.
There are various sized driveaway awnings that comfortably sleep from 2 people all the way up to 10 people. The Vango Galli is our favorite larger sized example – this can sleep 4 comfortably and probably up to 8 at a squeeze.
How long does it take to put up a driveaway awning?
Ah, the magic question!
Ours (the Vango Kela III) says it can be erected in just 8 minutes. I think this is technically correct in that yes, you can get it out of the bag and blow it up within 8 minutes. However, I find it very hard to believe it can be properly anchored and put up, start to finish, within 8 minutes.
The first time we put ours up it took us nearly an hour. However, we have never put a tent up in our lives, and it turns out we bought the wrong camping pegs!
The fastest driveway awnings to put up are ones that have some sort of inflatable structure. The Vango Airbeam series is one of the most popular amongst the campervan crew.
How long to pack it away?
The very first time we used our Vango Kela 3 it tooks us an hour to take it down and put it away. In all fairness, that did include chatting to our new campervan neighbors and fussing about with non-awning stuff, too.
After a few more uses of the very same awning, we realised that 1 hour to put away any awning is simply too much – that was our naivety and inexperience getting in the way. We've since used it 2 more times, and our current personal best is to take it down and pack it all away in just 20 minutes.
It's worth noting that it's significantly more of a pain packing stuff away while all your gear is wet or it's still raining. We returned from a trip recently and literally everything was soaked including the pop-top and our Vango Kela 3, so we had to re-erect it when we got home (what a pain).
How to look after your awning
Firstly, if you pack way your awning while it's wet, then you absolutely must take it back out when you get home and allow it to dry.
If you pack away your awning while it's wet then it'll grow mold unless you air it out when you get home.
Clever uses for your awning
There's a bunch of reasons to buy an awning. The longer you own one for, the more imaginative reasons you'll think of!
To sleep in (take your friends/family away with you!)
Use it for extra living space
Use it as a shower block
Get changed in it
Use it as a temporary toilet block during the nights
Create a mini cinema in there (mega cosy!)
Baby changing
Sheltering from bad weather and to get some shade
To get some alone time from your partner! (whoops)
What layout can a driveaway awning have?
There are two common layouts. One is not better than the other – it's just preference – though which to go for definitely divides opinion in the campervan community.
Even though there are two primary layouts, most awnings actually have multiple openings, meaning there isn't always that much of a difference. The biggest difference with the "main" entrance to the awning is that it usually contains some sort of sunshade and the groundsheet extends out a little bit past the tent into the canopy (so you can be outside the tent, but still on top of the groundsheet).
Awnings with a front-facing entrance
The main entrance for these faces the same direction as your side sliding door. Examples include the Vango Kela and the Cayman Midi Air.
Awnings with a side-facing entrance
When you look at the front of your van, you'll also see your awning's front entrance. Examples include the Vango Galli and the Movelite Outdoor Revolution.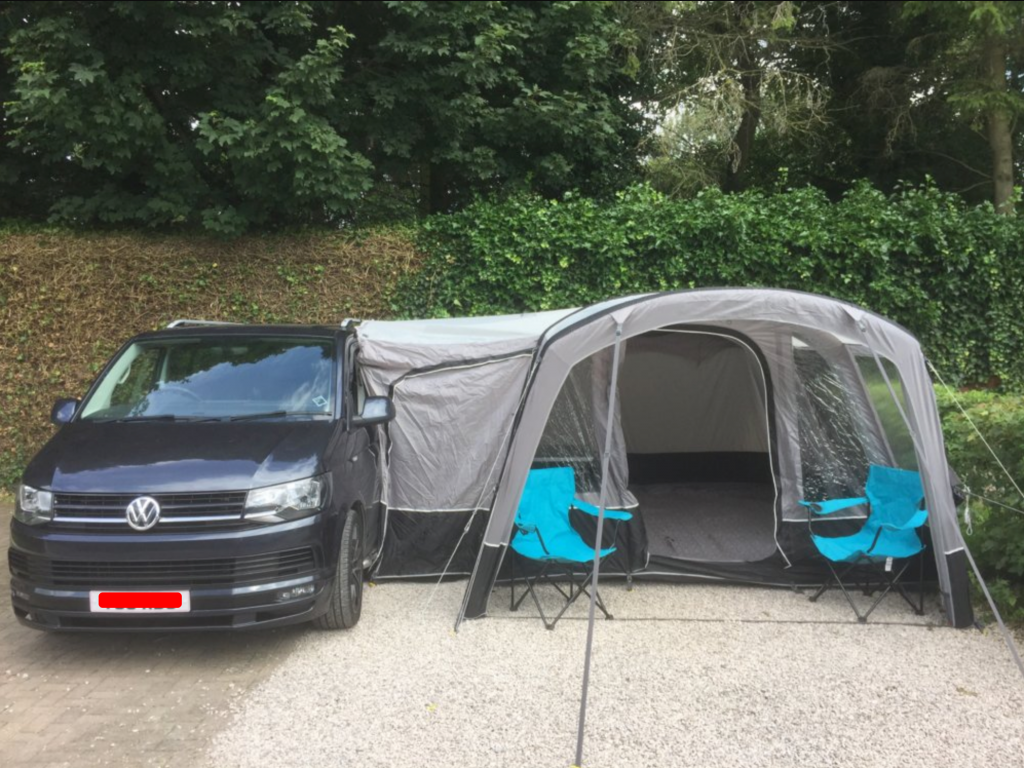 Groundsheet for awnings
You'll want to have a groundsheet in your awning so you're not bringing any mud or grass into your campervan as you're walking in and out.
Some driveaway awnings come with a sewn-in groundsheet, and some even have a zippable groundsheet that easily connects to the tent.
Many campsites insist that your groundsheet is permeable. This ensures that the grass beneath can breath and doesn't die as a result of your groundsheet being there for the weekend.
Connecting a driveaway awning to a campervan
This isn't immediately obvious, but when you've done it once it's super simple.
It's very important that you buy the correct awning connection kit! They come in different sizes like 3mm, 4mm, 6mm, etc. 6mm is the most common and what Vango usually has, but you MUST check before you purchase a kit.
You'll need a driveaway awning kit like this one. This is what connects your driveaway awning directly to your campervan. It's essentially what makes your awning a driveway awning… instead of just a standalone tent.
The kit comes with a couple of bits:
A kador strip (the fabric middle bit in the picture above)
Figure of 8 strip(s)
Carry bag
The figure of 8 strip connects directly to your awning flap. Then the kador strip is what connects your van to the figure of 8 strip as you can see in the picture.
Top tip: when you've connected your campervan to the driveaway awning, mark where your tyres. This will make it 100x easier to return back to the perfect spot to reconnect with the awning if you take any driving trips away.
Driveaway awning buzzwords and common questions
If you're shopping around for your first driveaway awning, then there will be a load of new terms for you to get to grips with.
Luckily for you, we've already had to learn most of them – so here's a little list of common buzzwords and questions for people who are looking to buy a driveaway awning.
What is the AirBeam system?
AirBeam is a technology produced and patented by Vango. It's an inflatable system that allows you to very quickly blow up your awning using the provided double-action pump instead of through the traditional tent system using rods (which takes longer and is more hassle).
What is the SkyTrack system?
SkyTrack is unique to Vango awnings and tents. It allows you to easily hang anything (lanterns, clothes, storage, etc.) from the roof of your product using their accessories called SkyHooks.
What is the AirAway system?
This is the valve through which Vango AirBeam tents are pumped up. It's a special nozzle that easily attaches Vango's double-action pump onto their AirBeam awnings for inflating.
What does Sentinel Pro fabric do?
This is Vango's special fabric that is designed for extended use to prolong the life of your product. They claim that it reduces the amount of UV fadings, is less prone to ripping, and is extremely waterproof (6000mm HH rated).
Do I need an awning groundsheet?
This depends on which awning you have. Some have sewn-in groundsheets, and some require a separate purchase. If you do not have a groundsheet at all, then the inside of your awning will become damp if it's placed on grass, so yes – you should have a groundsheet if using a driveaway awning.