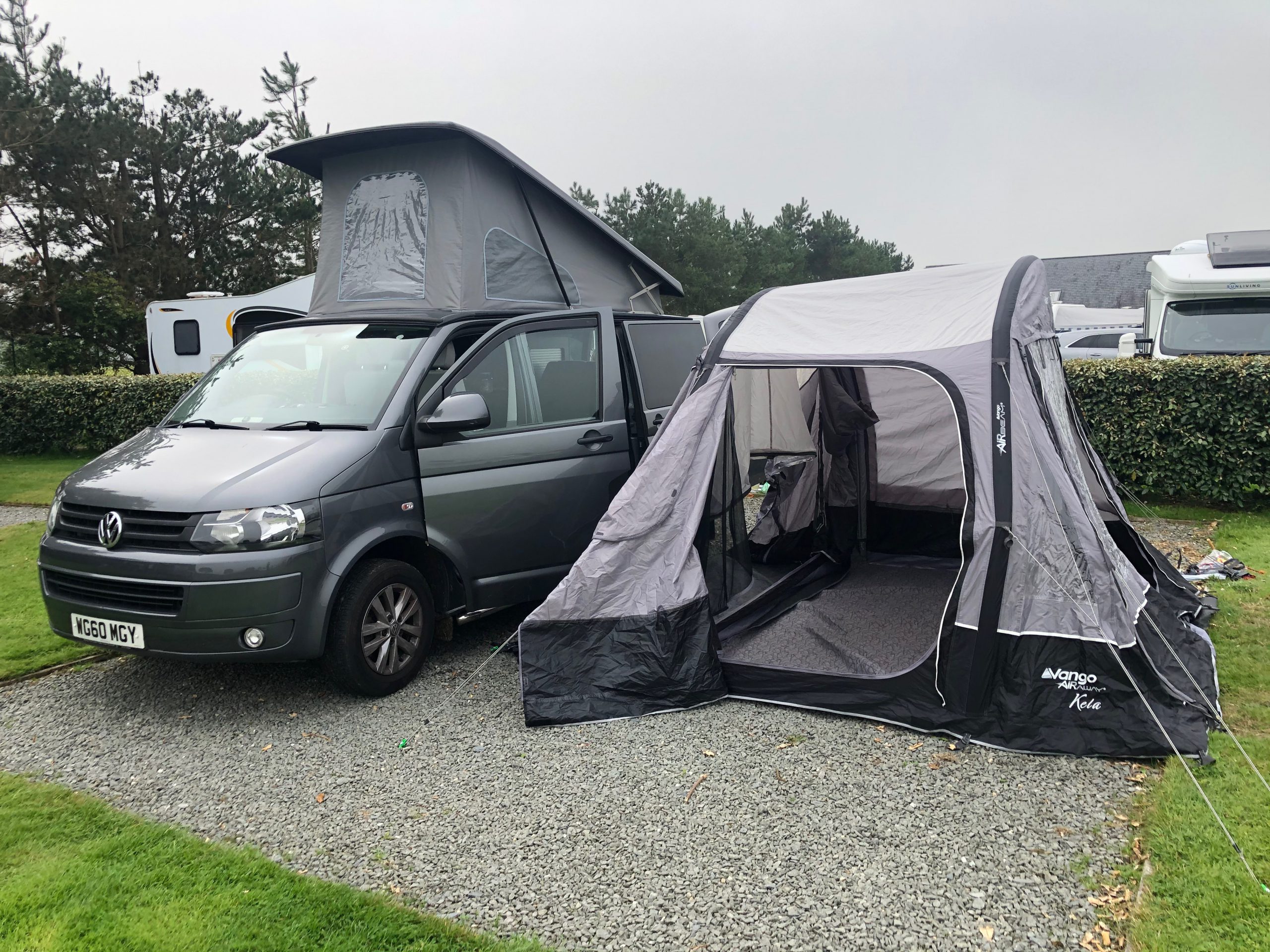 The Verdict
This is an absolutely outstanding product. We've used ours on 3 different trips now through various weather conditions, and we absolutely love it.
Most things about the Vango Kela are very positive, but there are a few niggly things that I'd change about it if I could. Read on to find out more.

Perfect for Transporter campervans
Super simple to erect and put down; awesome quality. This is perfect for most campervan owners!
We actually bought ours second hand from a Facebook group for campervan owners. We paid £240 altogether including the interior carpet. The retail price would otherwise have been around £570 for the same thing, which to be honest, I think is absolutely worth it.
With everybody going campervan mad during the summer, especially during the Covid crisis, there may be bargains to be had on marketplaces such as Gumtree and Facebook groups. Make sure you keep an eye out for them!
What it looks like
How long to erect the Vango Kela?
Thanks to the AirBeam structure created by Vango, it's actually very simple to erect.
Vango claim that it takes 8 minutes to erect.
Here is a timelapse of us putting it up:
I've never been much of a camper prior to purchasing a campervan and this tent, so putting up the Kela was a very new thing for me.
My first port of call would usually be to hit the internet and search for some instructions to see how to put the tent up. However, on my first attempt we were on a campsite on Dartmouth in Devon, and I had no internet available to help guide me with instructions.
This didn't prove too much of a problem. It took much, much longer than I'd anticipated, and certainly longer than Vango claim it should take. It took me nearly an hour to put it up on the first attempt.
Second attempt took 30 minutes.
Then I had an "aha" moment and realised I still hadn't watched an instruction video on how to erect it. I decided to follow the instructions on the third attempt, which took just 20 minutes from start to finish.
To clarify, erecting the Vango Kela involved the following:
Getting the Kela bags out of the boot
Taking all of the awning and goodies out of their respective bags (this is actually quite hard work since it packs away so tightly into its bag)
Pegging down the groundsheet
Blowing up the 2x AirBeams
Connecting to the van via a driveway awning kit
Pegging down all of the guy ropes
Putting all of the bags, peg hammer, etc. back away tidily
So, to summarise, I don't think Vango's claim of 8 minutes is impossible. However, I do think you need to be absolutely flying to do it in under 10 minutes.Box Content
By the time I'm erecting the awning, I usually have some music on in the background and a beer in hand, so I'm happy enough with 20 minutes@
Is it easy to pack away?
The Vango Kela is easy enough to pack away. That doesn't remove the dread that plagues you while it's up though! Or is it just me that hates the thought of putting tents away?!
It takes us around 30 minutes on a good day to pack everything away back into the correct bags and into our Transporter.
If it's raining and everything is soaking, add on an extra half an hour for the extra annoying bits that follow. For example, making sure the groundsheet isn't touching our cloth rear RIB bed so it doesn't dirty it. Stuff like that.
The double-action pump that's included has a very handy deflate setting. This is unbelievably handy when you want to squeeze every drop of air out of the AirBeam system to make it easier to pack away.
Here's a timelapse of us taking the Vango Kela down – it takes roughly 30 mins.
Stowing away the Vango Kela in your campervan
When stowed away, the Vango Kela takes up the same amount of room as a large holdall.
You can see the Kela stowed away on the bottom shelf in the rear of our van above.
It weighs 18.40kg, so isn't too heavy, but isn't exactly trivial either.
How many people can sleep in the Vango Kela?
This was a hot topic during a recent visit to West Wales with some of our friends (a couple) who stayed in the Kela for 2 nights.
The official documentation for the Vango Kela says that it is 2 berth. I'd loosely agree with this, but caveat it and say it's a very generous 2 berth.
We had a double blow up bed in there, and there was ample space for additional luggage and belongings alongside this within the living compartment.
I reckon at a push you could jam 5 or 6 boozey people in there for a night!
What you get with your purchase
Included in your purchase of the Vango Kela you'll get:
Vango Kela driveaway awning and carry bag
Camping pegs
Double-action pump and carry bag
Vango groundsheet
Be warned that it does not come with a driveaway awning kit
. For that you'll need something like
this
. Be warned though – these kits come in different sizes (3mm–6mm) – so make sure you buy the correct one.
It also does not come with the poles to erect the exterior porch.
Conclusion
To conclude this Vango Kela low review from a campervan owner's perspective, I'd say this is the perfect driveaway awning.
It's big enough without being too big.
It's easy to erect.
It stows away to take up relatively little space.
It looks great.
It's great quality from a reputable brand.
The only downside and this is a personal preference, is that the front entrance (with the porch covering) is 90 degrees to the front of the van. There is an entrance the faces the same way as the van, which we use all of the time, but it doesn't have the porch covering, unfortunately.
Excellent awning!
We recommend this for couples and families alike. A wonderful product that's quick to put up and outstanding quality.
PROS
Price
Quality
Easy to erect
Quick to erect
Stows away easily
Add your review
|
Read reviews and comments