Travelling through nature in a campervan is one of the best experiences you can dream of, but I'm sure you have one particular question: How do you go to the toilet while on a campervan journey?
Well, to be honest, there are many options, and doing it in the bush is not one of them unless you want to face a fine later. It is considered a public offense in the UK and it is not hygienic at all!
First, the toilet that we use in our 2010 T5.1 is the wonderful Porta Potti 335.
Here are the toilets mentioned in this article:
An awesome toilet that fits snugly and doesn't smell at all.
One of the most popular portable toilets for VW Campervan owners.
Durable, easy to use and maintain.
A large toilet with electrical flush system.
Here, I will try to explain which are the options considering that you are travelling in a VW Transporter size campervan.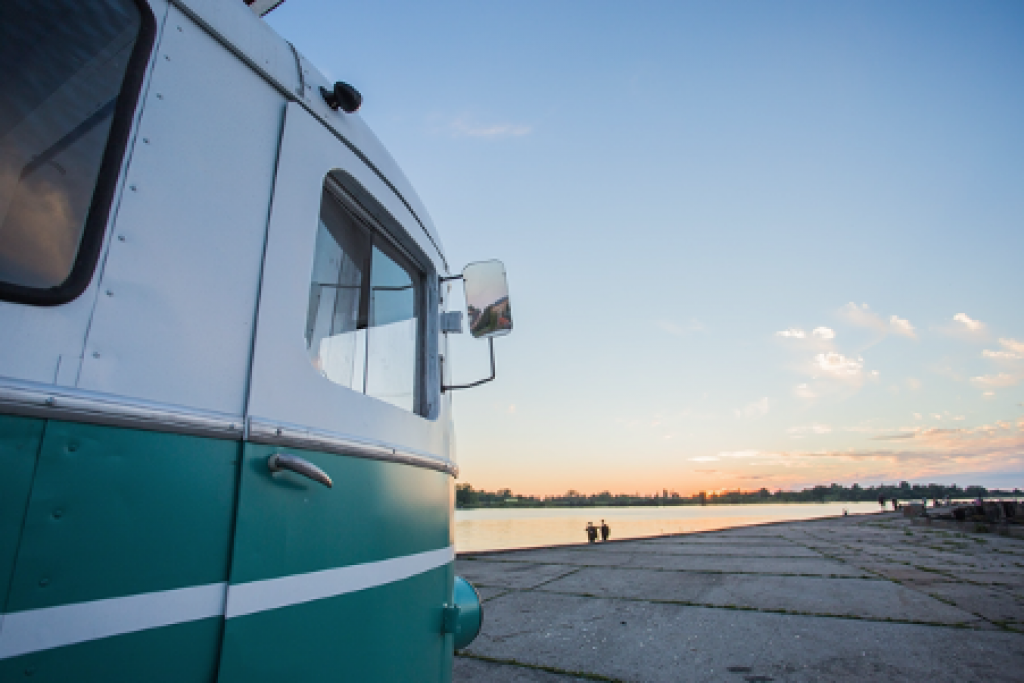 Do all campsites have their own toilet facilities?
This is the first thing you might be thinking if you´re not quite an experienced campervan traveller. And yes, usually campsites have their own toilet block, but what you're probably missing is that not all of them are cleaned regularly, and most important: they are not the most comfortable option in the middle of the night.
Yes, you can pee in a bottle or a jar (with a wide mouth preferably!) and dump it the morning after and clean the bottle. You can even wash it with a drop of eco-friendly soap and it'll be ready for use again. But, what if you are not alone in the campervan? Does this mean you'll have to spend the whole night with yours and your partner's pee bottle until dawn? Well, of course. And I think it is kind of gross. What if you are a family? I don't even want to think about it.
For a "#2" it gets way out more complicated. Sure, you can always dig a hole in the middle of nowhere. Remember to bring the toilet paper!
What are the main campervan toilet solutions?
Let's be honest, having your campervan portable toilet is a true blessing. Believe me, there's nothing like going to a private, fresh, comfortable toilet, and the great fact is that you can find the most suitable option for yours!
The main solutions are:
Chemical toilets for campervans
Cassette toilets for campervans
Composting toilets for campervans
The "toilet tent"
A good old bucket or (large) jar!
The great thing about having any of the solutions above is that you can actually carve out some of your own privacy if you have a driveaway awning. Many people use their driveway awning (like our Vango Kela 4 Low) as a temporary loo during the evenings, putting whatever portable loo they have in the tent during the nights while they sleep in the van.
Do campervan toilets smell?
Well, it will depend on the quality of the toilet you choose to buy. A good quality campervan toilet that is well sealed doesn't smell. You can travel long hours with a full container and empty the bucket whenever you find a disposal point. And this is the only inconvenience I have with portable toilets: you will have to empty them at some point and it is not an enjoyable adventure for the one in charge.
No matter what toilet you have, at some point you'll have to dump the waste inside, and if you're driving around for a couple of days, you will be worried it might overflow.
Chemical toilets for campervans
Inside this category, you can find the Bucket, the Thetford Porta Potti, and the Cassette. All these have in common that they all use liquid chemical products to break down the waste and mask odors.
What's my personal experience with chemical toilets?
After a lot of research – and personal experiences while travelling – I find the Porta Potti really useful in terms of the range of sizes and price. Compared with a Bucket, the Porta Potti contains the smell better, which is a very important pro mostly during long journeys when you are not able to empty the load in the campsite chemical disposal point.
Porta Potti for VW Campervan
It is a two-part toilet that is locked together when in use, and you separate when you need to empty the waste. The top container holds water for flushing the toilet, has a toilet seat, a toilet bowl, and a flushing mechanism. The bottom has a pull lever that clears the opening where the waste goes down.
I sincerely recommend this kind of toilet because they need very little space and if you don't have a destined space for it you can even put it under a seat or inside a wardrobe.
There are a lot of them with different container sizes, heights, and weights.
We've tried a couple of Porta Pottis, and settled on the 335. This is because it fits nicely in our cupboards. We previously bought different models and had to return them because they didn't fit in our van very elegantly (don't worry, we didn't use them firsty!).
Cons? You will have to empty it eventually.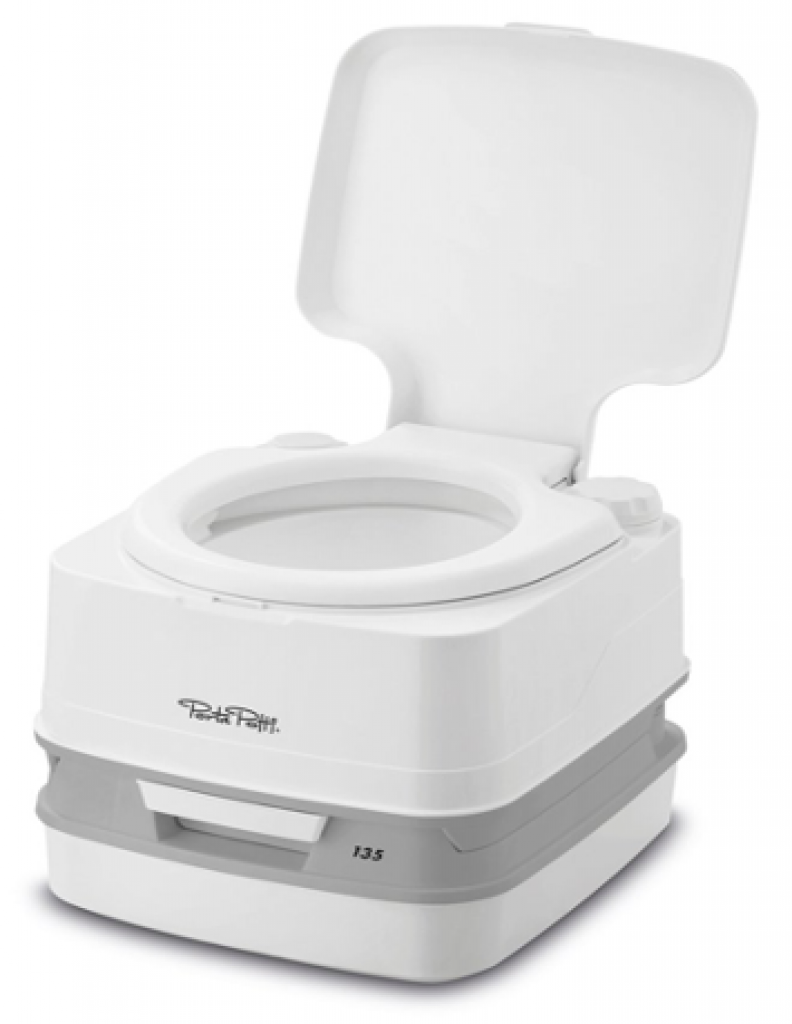 Cassette toilets for campervans
The Cassette toilet is also a good option, but it is the most expensive as well. Also, you will need more space since is the most alike to the one we use at home. This kind of toilet for campervans works by collecting the waste in a removable sealed waste tank called cassette to which you can access from the outside. I would say that the pros of this kind of toilet are that it is probably more comfortable and definitely more hygienic, but the cons are big: you need more space, which is a big deal when you're travelling in a VW Transporter size campervan, and it is much more expensive than a Porta Potti.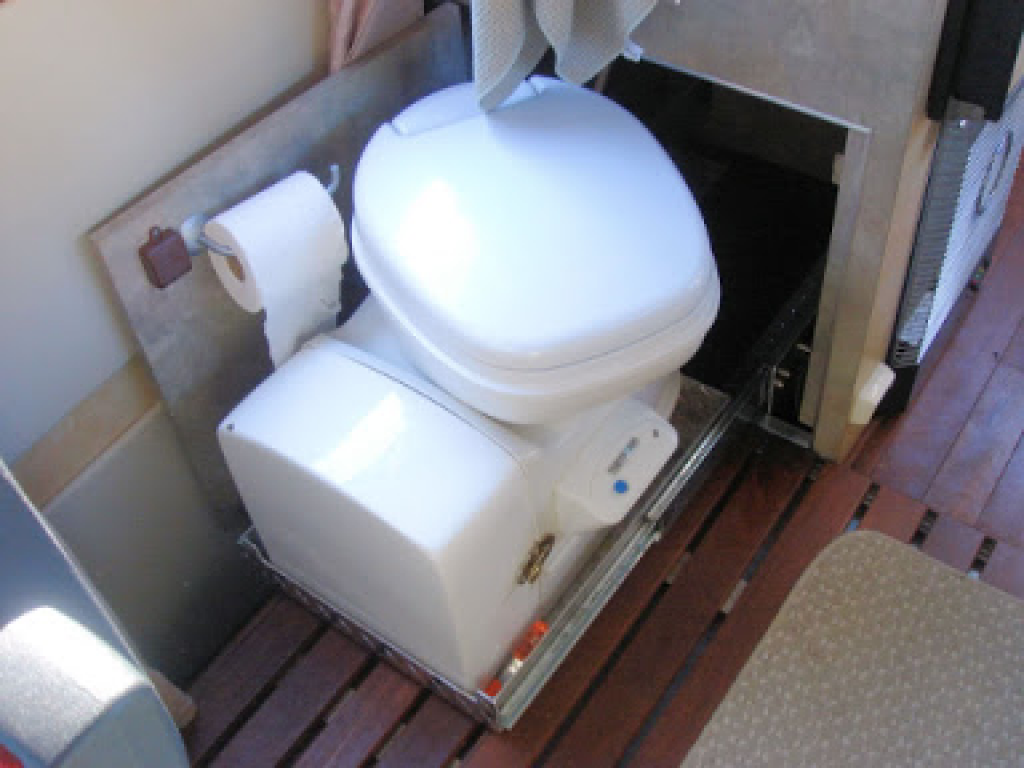 Composting toilets for campervans
These are a good option if you're building a campervan out from an empty shell and want a permanent toilet because it is fixated to the floor.
These toilets separate the urine from the solid matter and that is what makes them so popular nowadays; the urine container needs to be emptied every 1-2 days if used regularly by let's say, 2 people. The poop container uses composting fibers to break down the waist -usually, coconut- and has to be emptied at least once every 3 weeks.
In some models, even ventilators are included in order to direct any possible smell away. Composting toilets are claimed to be better than chemical toilets since they don't use chemicals liquids to break down the waste -that can sometimes be quite sharp-, and they don't even use too much water.
Conclusion
You might've guessed what my personal choice is by now. Of course, I'd advise you according to the size of your campervan, but since here we are focusing mainly on a VW Transporter campervan size, I'd say that the Porta Potty is the undisputed winner: it is portable, it can be really small and occupy very little space, and is the cleanest and most comfortable way of going to the toilet while travelling in a van.