Join us for more posts like this
Receive tips, reviews, competitions, campsite recommendations and more written by fellow UK campervanners!
Looking to install a DIY pop top roof in your campervan and considering doing it yourself? Using a DIY pop top roof kit isn't necessarily the answer. It's a highly skilled endeavor and not something that just anyone should be looking to do.
Pop top roof kit
There are a few kits on the market that you can buy off the shelf and try to install yourself.
Many manufacturers of pop top roofs though do not sell to the public, and others only provide a supply and fit service. The main reason for this is that they cannot guarantee the quality of their roofs in the event of a poor installation.
As I wrote in the T5 pop top roof prices article recently, there is a lot at stake when installing a pop top roof in your camper – whether you do it yourself, or pay someone to do it.
Camperbrain quoting service
New for July 2021!
We're proud to have launched the Camperbrain partnership program. We're partnering with reputable conversion companies around the UK to provide conversion works for our readers.
If you're searching for a company to add a pop top roof to your van, then look no further. Visit the camper conversion quotes page and tell us what you need. We'll then do the legwork and source quotes from reputable partners in your region.
Takes 30 seconds to tell us your requirements!
Risks of a DIY pop top roof kit installation
There are a lot of reasons to NOT install a pop top roof yourself. Unless you have the skills, experience AND equipment to do so, I recommend you stay well clear.
Firstly, cutting a giant hole in your roof is not a trivial job. Think about it. You're literally cutting the entire roof off, which isn't exactly a "Ctrl+Z" situation – you can't just undo it if you get it wrong or your cut is not straight.
Secondly, it doesn't matter how many guides to "diy pop top roof kit installation" you read. Experience is the missing ingredient. Some things look amiss to a professional much sooner than an ameteur. Equally, if something does go wrong, a professional is going to have the cool head, tools, and skills to remedy it before it's disastrous.
DIY vs professional pop top prices
The main motivation for DIY installations is the price. Let's look into that a little bit.
There are a variety of pop tops on the market that you can buy direct from the manufacturer.
DIY pop top price
There are so many on the market with varying quality, it's impossible to give a single value for this. If you have a look on Ebay, you can find them for sale for £1,500-£2,500.
You'll also need to spend a few hundred quid on materials and equipment like:
Angle grinder with cutting discs or jigsaw with long blades
Clamps
Electric drill with 3-10mm drill bits
Gearbox jacks (2) or similar supports
Pop rivet gun
Screwdrivers
Silicone
Sealant gun
The most expensive part of pop top roof installation is actually the materials and roof itself. The fitting aspect will vary by conversion company, but you're probably looking at around £1,000 for the fitting itself. Have a look at our guide to pop to roof prices for more information and a cost comparison showing all of the pop top roofs on the market.
Is installing a pop top roof kit yourself safe?
If you do install it yourself, then there is no oversight or standard that you know you're working to. Ast least professionals work with fellow professionals and often teams of people who act as a form of oversight during such significant changes to vehicles. If you do this on your own, you wont have such accountability.
There are many roofs available on the market as M1 crash tested, and some TUV approved pop tops, which are advertised as "DIY pop top kits". However, I personally wouldn't feel comfortable driving a vehicle that I know any old dick or harry has cut the top out of themselves.
Additionally, by installing a pop top roof yourself you will void your warranty, and potentially your insurance too.
Problems caused by installing your own pop top roof
You can spot a well-fitted pop top vs. a poorly fitted roof a mile off.
A cheap roof, which is typically the option DIYers go for, has a tendency to bow at critical points in the structure – see the images below.
One of the easiest ways to spot an ill-fitting poop top is by the fabric when the roof is extended upwards.
When the pop top if fully extended, the fabric should be taught. There shouldn't be any sag in it whatsoever, but equally it shouldn't be so tight that it's preventing the gas struts from fully extending.
Compare the above cheap pop top conversion with the professional pop top SCA roof below: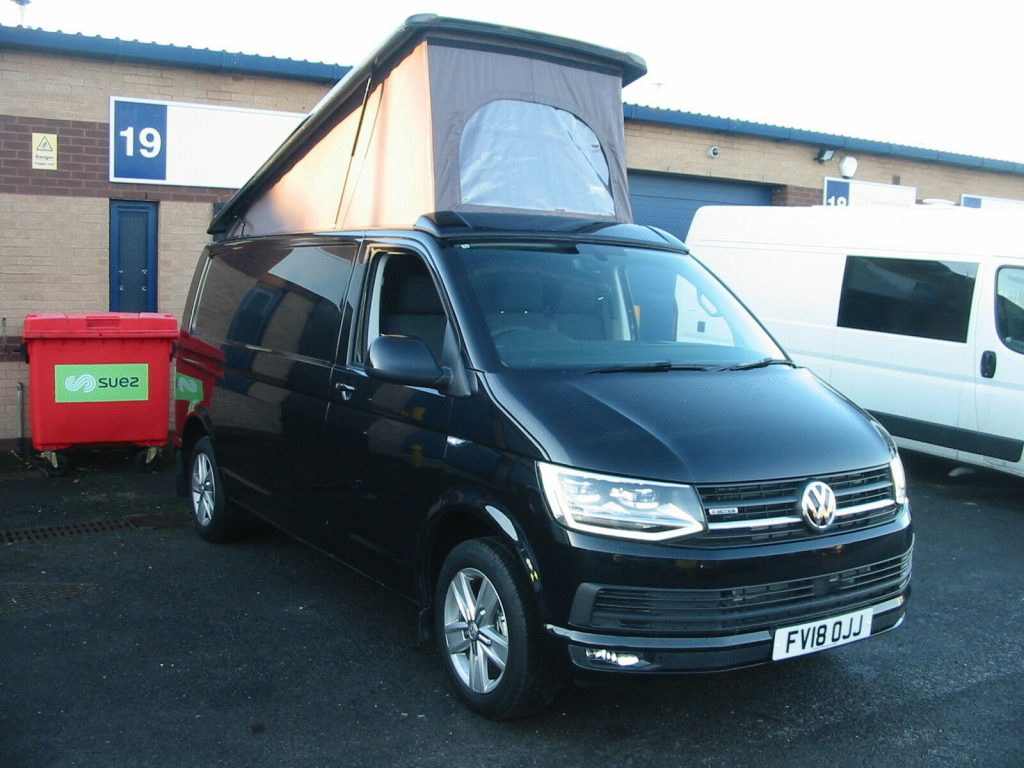 There are more possible drawbacks to a poorly fitted DIY pop top roof too including:
Water leaks into the van
Squeaky joints and struts
Wind noise while driving at speed
Rust where the roof has been cut open (especially if a proper sealant isn't used)
Failing gas struts
How DIY pop tops affect resale value
Something that I always recommend when buying a used campervan is to ensure that the conversion has been done professionally, and to a high standard.
Buyers often, and rightly so, ask to see any paperwork from the original conversion. The roof is the most important aspect of any campervan conversion as it has the most potential to cause problems.
If a buyer realises that you've converted the pop top yourself with a mate in your garage, then don't be surprised if they're put off.
It's impossible for me to say "roofs with a DIY pop top sell for £X less", but given the choice between a professional conversion and a DIY conversion, which do you think a prospective buyer will choose?
Recommendation
Even though it's tempting to install a pop top roof in your van yourself, I personally would recommend against it.
Obviously not everyone lands at this opinion. My perspective is bias, as I'm not especially handy when it comes to DIY; I've never been mechanically-minded when it comes to vehicles; and I most certainly don't own any of the tools needed to do a good job.
You may find a DIY conversion the cheapest thing in the short-term, but you know what they say – buy cheap, buy twice. You may find yourself seeking professional advice in the event of the conversion not going to plan half way through (without the ability to driving it to a garage!).
Here are some Ebay links relating to DIY Transporter pop tops that may be useful:
Join us for more posts like this
Receive tips, reviews, competitions, campsite recommendations and more written by fellow UK campervanners!